Snowy Hydro operates in NSW, Victoria and South Australia across a range of environments from urban industrial areas, to tourist destinations and remote bush locations.  Wherever we are, we seek out and work with community partners and other stakeholders to share knowledge and invest efficiently in on-ground work.
Snowy Hydro manages around 6,400 hectares of land inside Kosciuszko National Park and around 24,000 hectares of freehold land. This includes 600kms of foreshore around storages like Jindabyne, Eucumbene and Tantangara. The foreshores play a crucial role on the edge of storages holding the water in the Scheme, as well as providing opportunities for a variety of recreational and community activities.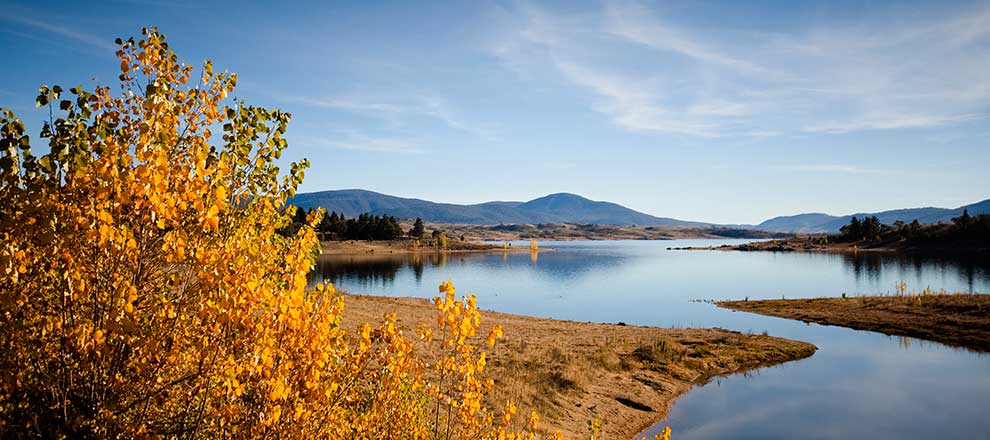 The scale of the area, and the fact that visitors are provided with public access to most of the foreshore, makes it a major challenge to keep the foreshores safe and free from rubbish and human waste.  Snowy Hydro works hard to keep foreshores safe and clean, but cannot do it without the active contribution from everyone who enjoys and benefits from the use of these areas.
We ask that everyone who enjoys use of these areas support us by working together to keep the areas safe and clean.  Everyone can contribute by:
Keeping to existing tracks,
Taking rubbish with you,
Using toilets provided; and
Camping only in designated areas and caravan parks.  You can also report antisocial and dangerous behaviour to the local police when you see it.
Who manages what?
With a number of storages adjoining national parks or private lands, many different agencies and organisations are responsible for different aspects of recreational management and access. Snowy Hydro has a substantial land management program and has partnership arrangements with local government, tourism operators, public users and State agencies to manage issues cooperatively.
We deliver through our working relationships
Snowy Hydro has hundreds of neighbours.  Sometimes to achieve our goals we will need to work with neighbours and land management agencies.  Cooperative works include weed and land management programs, bushfire mitigation programs, conservation initiatives and licensing and land use agreements.
We make every effort to be aware and mindful of our neighbours, making it easier to carry out the work we each need to complete.  Through these partnerships we are able to minimise our impact on the local community and the environment.
Maintaining Access
Snowy Hydro has a very strong track record of providing access to land and can point to numerous examples of public and private development made possible by contributions from Snowy Hydro in the form of access to land, technical expertise and financial contributions.
We provide this support while working within the operating parameters of the lake levels, which vary depending on the inflows, releases (for both irrigation and the environment) and generation. It is not unusual to see the level between low and high water mark vary up to 150 metres horizontally and 20 metres vertically.
We therefore cannot avoid the reality that if new development is not carefully located it will be impacted by either higher or lower water levels. While we cannot do anything about droughts and lower lake levels, we do not locate development below the expected operating level of the lake. We also do not support development around assets for safety reasons, or development that will impact on the amenity of nearby residents.