The Snowy Hydro Community Grant Program offers grants of up to $10,000 to support and deliver positive and lasting outcomes for our communities and is underpinned by our four community commitment pillars.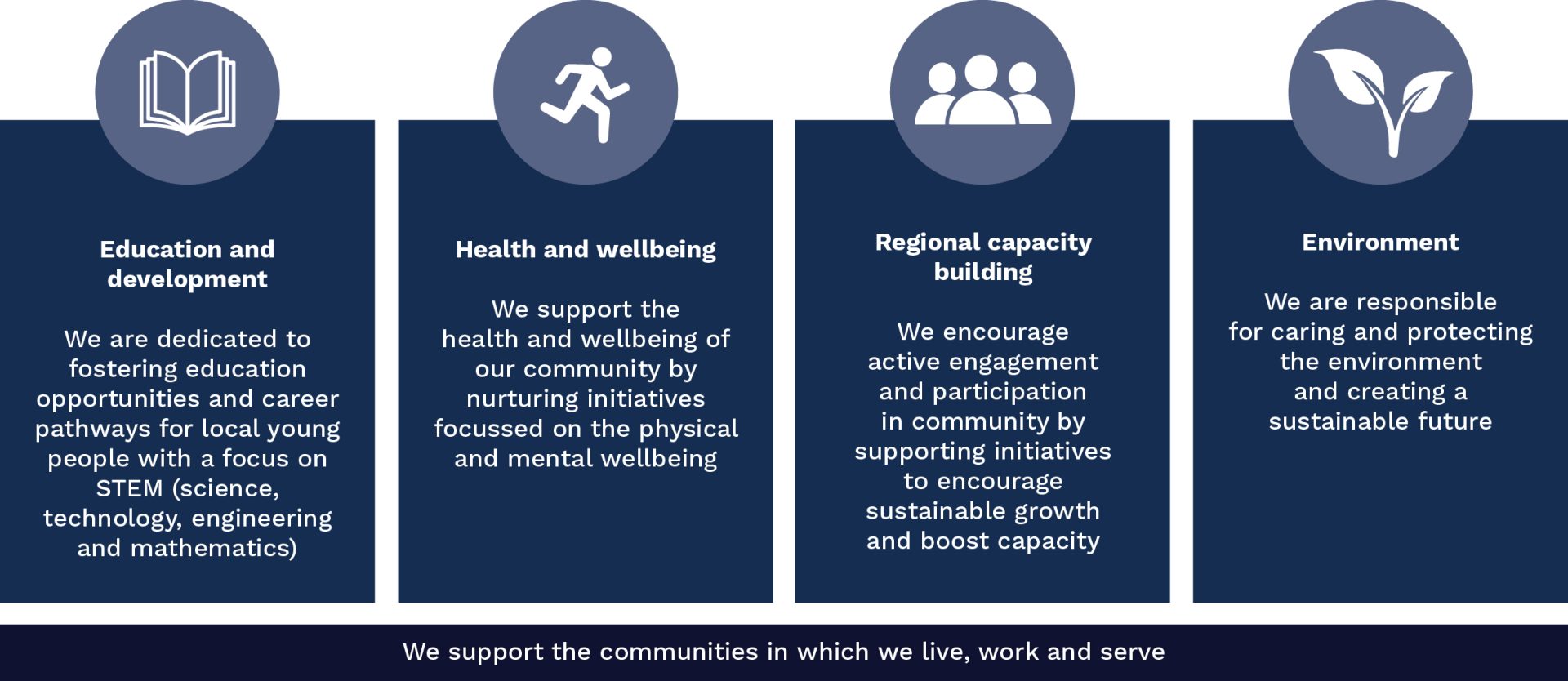 The Snowy Hydro Community Grants Program has two grant application intakes per year; one in February – April and one in September – November.
Applications have now closed for 2023
Evaluation period: November 2023
Notification of outcome: By 30 November 2023
Community Grants 2024 – Round one, will open in February 2024

FAQs
What funding is available?
Community organisations such as groups, clubs or individuals in the region can apply for one grant of up to $10,000. We have two application rounds, February and September of each year. 
When can I apply?
The next round will open on the 1 September 2023.
Who is eligible to apply?
Projects, events or activities must relate to the identified priority areas and contribute to their community's wellbeing, prosperity and sustainability.
Eligible organisations and community groups include:
• Those located within the Snowy Monaro or Snowy Valleys LGA, or Corryong, Victoria
• Not-for-profit community groups or organisations that hold an Australian Business Number (ABN).
• Non-incorporated community groups and clubs overseen by an eligible organisation which is nominated as the legal entity on the application form.
How do I apply?
To apply applicants must complete the online application form.  Please answer all questions in full and provide all supporting documentation.
Applications must be submitted by the closing date. Eligible applications are those that meet the eligibility criteria and address at least one of our social commitment pillars.
What criteria will my application be assessed against?
To maintain a consistent and transparent assessment process, all eligible applications will be assessed and scored against the following criteria:
The project, event or initiative: 
• Responds to a community need or aspiration and provides tangible and measurable benefits to the local and/or regional community, both now and in the future
• Is valued and visible within the community, and helps the community thrive
• Strengthens the community by providing opportunities for community development, regional capacity building and/or community participation
• Demonstrates that it can be readily implemented via an appropriate budget by providing relevant quotes or documents that provide evidence of the viability of the application
• Fosters strong and sustainable partnerships within the local and/or regional community
• Has the right team with the knowledge, resources, capacity and capability to deliver the project
• Returns value for investment
Not every application that meets the assessment criteria will necessarily receive funding. All decisions are at the discretion of Snowy Hydro; funding decisions will be final and no negotiations with applicants will be entered into.
What type of grants will not be eligible?
• Religious, political or private individual or private business activities or recurrent expenses (example: rent, utilities, wages for a business or organisation)
• Funding for Council owned assets or infrastructure
• Organisations or community groups not aligned with Snowy Hydro's Values or which have direct links to tobacco, illegal drugs, negative impacts on health, or are associated with risk-taking activities
• Requests for retrospective activities, or to cover costs associated with making an application
What projects, events and initiatives has Snowy Hydro supported in the past?
Snowy Hydro are proud to have supported local regional events, projects and initiatives including but not limited to; Tumbafest, Adelong Show, Festival of the Falling Leaf, Man From Snowy River Festival, Cooma Motorfest.
How do I apply for in-kind assistance?
Snowy Hydro supports in-kind on a case-by-case basis. These applications require approval from our Community Grant Program Review Panel. To apply please email community@snowyhydro.com.au at least four weeks ahead of your event.
I have questions – where do I direct them?
Our Community team welcomes any questions to assist the application process. To contact our Community team please email:  community@snowyhydro.com.au