Snowy Hydro is passionate about fostering the next generation of innovators. Our education program has for generations provided students with learning opportunities that align with the national curriculum.
Our learning program will ignite students' imagination and expand their knowledge across a range of curriculum including STEM, geography, history, environment and social science subjects.
Whether students visit our Snowy Hydro Discovery Centre and the Snowy Mountains region or visit the Next Generation Education Hub online, students will be able to experience the Scheme like never before.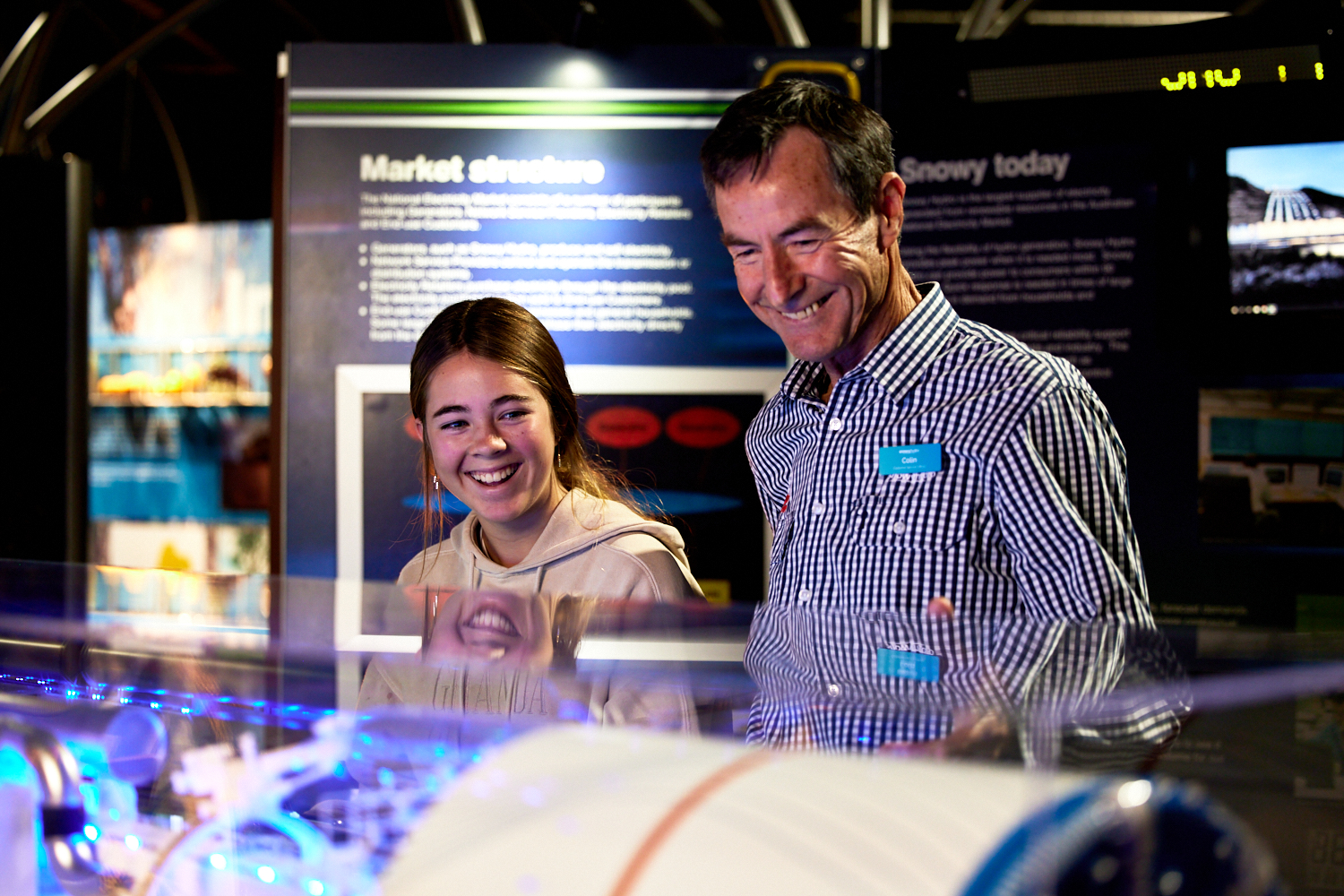 Discovery Centre school visits
While visiting Canberra and the Snowy Mountains region, school groups are encouraged to stop by the Snowy Hydro Discovery Centre to experience the mighty Snowy Scheme like never before or simply make it your destination.
Students can discover the Scheme's past, present and future and hear some of the stories behind the engineering and our people from our experienced staff, including former teachers. With a state-of-art immersive theatre, our learning programs can be complemented with a range of experiences including a virtual fly-over of the Scheme.
Our huge renewable energy project, Snowy 2.0, is well underway and students can learn about the project, view a scale model tunnel boring machine, and discover Snowy Hydro's leading role as Australia transitions to a renewable energy future.
One or two-hour sessions with morning/afternoon tea and lunch options available.
School incursions
Tailored to suit all stages and ages, our school visits are now available 'in-class' and virtually. Bookings are limited – to avoid disappointment, the team encourages booking a minimum of two months in advance.
H20 kids holiday program
This program is offered to registered Out of School Hours Care (OOSH) providers during the school holidays. Each group can choose from sessions based on the past, present and future of the mighty Snowy Scheme and Snowy Hydro.
The kids holiday program invites participants into the immersive theatre for a special treat, a special guest, fun and energetic outside activities and a 'take-home' gift all while learning about Snowy Hydro's proud past and renewable energy future.
Online learning
The Snowy Hydro education program is now available online with the launch of the Next Generation Education Hub. The interactive online learning portal features a behind-the-scenes tour of a power station, an interactive digital storybook about the Snowy 2.0 project and a stack classroom resources and lesson plans.
Speak to us about tailoring your session to meet your classroom needs, led by one of our qualified staff, or maybe you would like to book a virtual classroom meeting with an engineer. We have many programs available to match your educational needs.
Learning about the Snowy has never been more accessible.