This state-of-the-art visitor facility showcases the amazing history of the Snowy Mountains Scheme; from the early days of construction through to how it is operated by Snowy Hydro today. This is a must for any visitor to the Snowy Mountains region!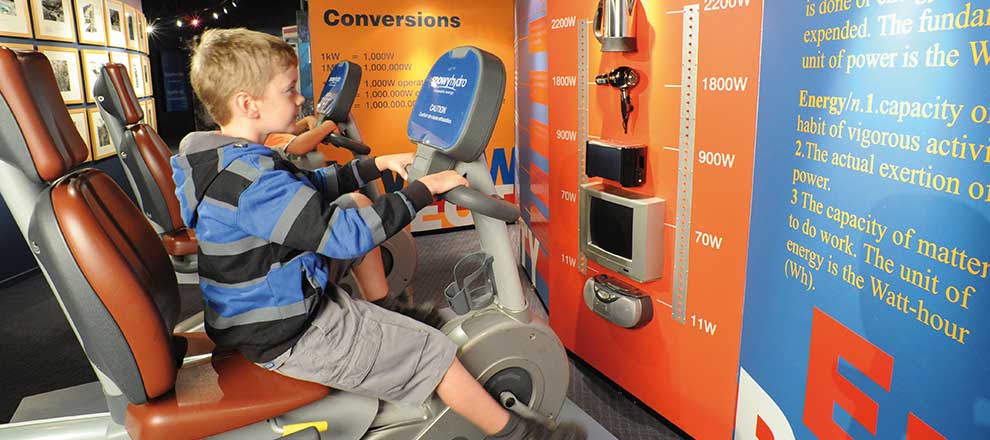 The Centre houses a comprehensive exhibition hall including an extensive photographic  collection, models, hands-on exhibits and interactive displays. You will find information about the Scheme such as engineering, the environment, the National Electricity Market, history, water management and power generation. Take your turn on the "power bikes" and see if you can peddle hard enough to power a TV, make some toast or boil a kettle.
You will also find screens displaying the Scheme working in real time. See which generators are operating, how much electricity they are producing and the prices of electricity in the market.
There are also two theatres in the Centre which show a variety of short films about the Scheme throughout the day.  Enjoy the outdoor picnic area which also displays two turbine runners from the Scheme, including the largest from our Tumut 3 Power Station weighing an incredible 47.7 tonnes!  Come and talk to our staff and find something amongst our selection of souvenirs, maps, DVD's and books to take home as a memento of your visit.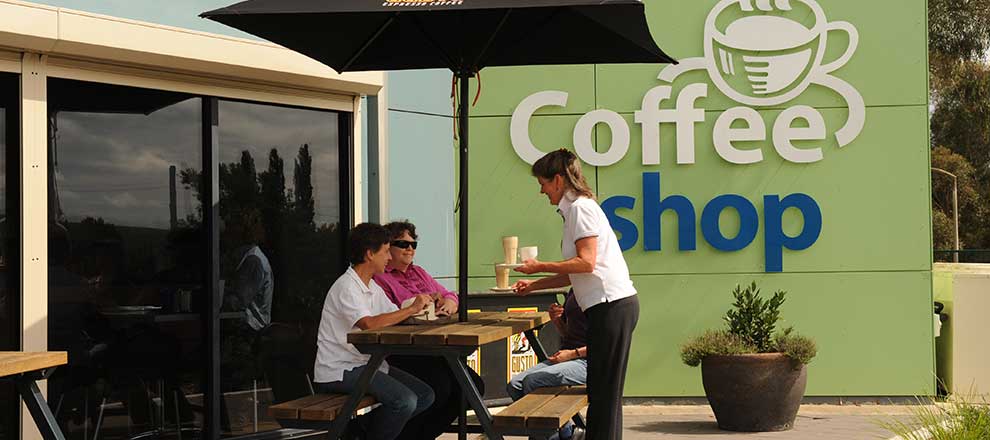 The Snowy Hydro Discovery Centre has a coffee shop serving freshly brewed espresso coffee, tea,  as well as a wide range of cakes and light refreshments to have in or take away.
Why not sit and enjoy a hot cup of coffee before taking a look around our displays?
The Centre is located only a couple of minutes from downtown Cooma and for those travelling south from Canberra we are a little over one hour away. There is ample car parking, disabled access and facilities, coach parking and long vehicle bays.
Where:          Cooma, Monaro Highway, 2kms north of Cooma CBD
Open:            8am–5pm Mon to Fri.  9am–2pm Sat, Sun and public holidays.
                       WINTER WEEKENDS (June-October): Open 6am - 4pm.
Note: Coffee Shop closes one our earlier.
Closed:         Christmas Day & Anzac Day
Cost:              Entry is free of charge 
Please note both the Cooma Discovery Centre & the Murray 2 Visitor's Centre will be CLOSED for three days from Monday 27th November 2017  to Wednesday 29th November 2017 for team training.
Our Cabramurra General Store and other facilities will remain open.
Sorry for any inconvenience.
Please note that around May and December we do close our Centres for several days in order to complete compulsory training. If you are planning a visit, please don't hesitate to call us on 1800 623 776 to check we will be open on your intended visiting day.