PUBLIC NOTICE
The Snowy Hydro Discovery Centre is following Federal Government advice in relation to COVID-19 and putting in place temporary operational changes. 
Until further notice the Discovery Centre's display areas, theatre and eating areas are closed. 
Take away food and coffee is available by:
phone order
or 
you can visit the DC and place your order at the temporary customer desk located outside.
To phone in your order, please call 1800 623 776.
When collecting your order from outside the centre, please observe social distancing guidelines and keep space between you and others.
Where: Adjacent to Monaro Highway, Yulin Ave, Cooma - look out for our signs!
Open: 8am-5pm Mon to Fri (cafe closes at 4pm).  
Note that our current opening hours on weekends are 9am-2pm 
Closed: Christmas Day and Anzac Day
Admission: Entry is free of charge  
Welcome to the Snowy Hydro Discovery Centre
Experience our state-of-the-art immersive theatre, explore our interpretive area and archive footage and be guided by one of our team with an insider insight into our live-screen Scheme operations.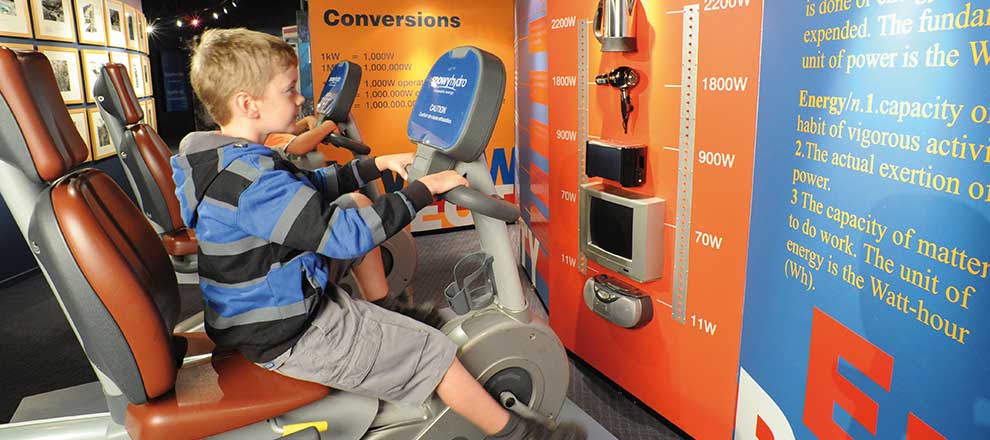 The Discovery Centre houses an extensive photographic collection, models, exhibits and interactive displays about the Scheme's engineering, history, water management, power generation, the National Electricity Market and the new Snowy 2.0 project. 
Visitors love the challenge of the 'power bikes' - see if you can pedal hard enough to power a TV, make some toast or boil a kettle!
Take a break at our Discovery Cafe - open from 8am-4pm - where you can enjoy our renowned coffee and fabulous fresh treats, savoury and sweet. 
We are considered a coffee destination for our locals and visitors alike! 
Enjoy the outdoor picnic area, where you will see two former operational turbine runners from the Scheme, including the largest from our Tumut 3 Power Station weighing an incredible 47.7 tonnes.
Our Discovery Centre team are famous for our Scheme knowledge, passion and excellent customer service - come and find out for yourself!