Between 1949, when the first blast was fired, and 1974, when the physical works of the Scheme were completed, over 100,000 men and women from more than 30 countries worked on the Scheme. Australians formed the largest nationality group on the Scheme, making up one-third of the workforce.
Many migrants escaped the horror of war-torn Europe to begin a new life in a new land. Working together on the Scheme, they became part of the Snowy family – former enemies and allies working side by side.
The Scheme – tough and unrelenting as the work was – provided their introduction to Australian working life.
During construction, seven regional townships and over 100 temporary camps were established throughout the Snowy Mountains. These towns and camps serviced the men, women and families who came to build the Scheme. Life in the camps was extremely hard, especially during the early years, when hundreds of men spent harsh winters in canvas tents with only basic amenities and provisions.
Some of the townships and camps operated for several years, while other camps were moved from site to site depending on where work was being done. A sense of companionship and camaraderie grew out of hard work and isolation. Community centres and health facilities were established in towns around the Scheme. Cooma changed from a quiet farming town to a cosmopolitan centre with nightclubs, hotels and delicatessens with new and exotic foods.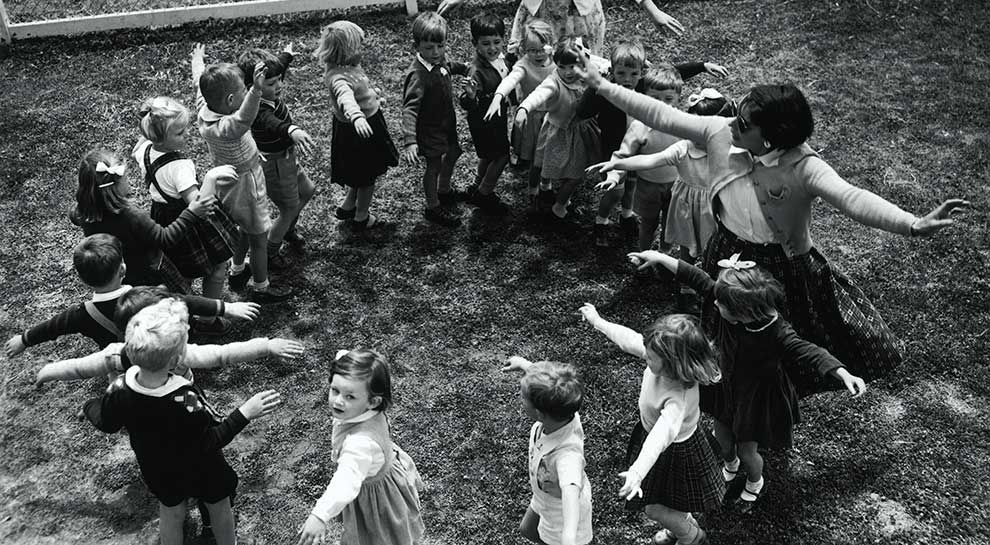 Children almost certainly had the best time of all. Their classrooms were no different from those in the cities, except that once school was finished for the day; there was a range of exciting activities. In summer there was bushwalking, yabby-catching and horse riding and in the winter, snowball fights, skiing and tobogganing.
In 1974, when construction on the Scheme was finished, many of the workers dispersed to new jobs in Australia and overseas. But by far a majority of those who came to build the Scheme stayed to build a new life as Australian citizens. These "new Australians" with their energy and enterprise would change Australia's social and cultural skyline forever.
The Scheme is not just a great feat of engineering; it is also a great social achievement with its multi-national workforce contributing to the cultural mix Australians enjoy today. The story of the Scheme's construction is a story of people who persevered through harsh conditions, rugged country and a unique climate, to build one of the greatest engineering projects ever undertaken.