Our Cloud Seeding Program
Snowy Hydro's Cloud Seeding Program began as a trial in 2004. The exceptional scientific merit of this trial, positive results of the evaluation, and absence of adverse environmental impacts were sufficiently compelling for the government to pass the necessary legislation for an ongoing, operational cloud seeding program. This commenced from the winter of 2013.
The Cloud Seeding Program currently targets an area of 2110 square kms. The map below shows the total Snowy Water Catchment and the operational cloud seeding target area: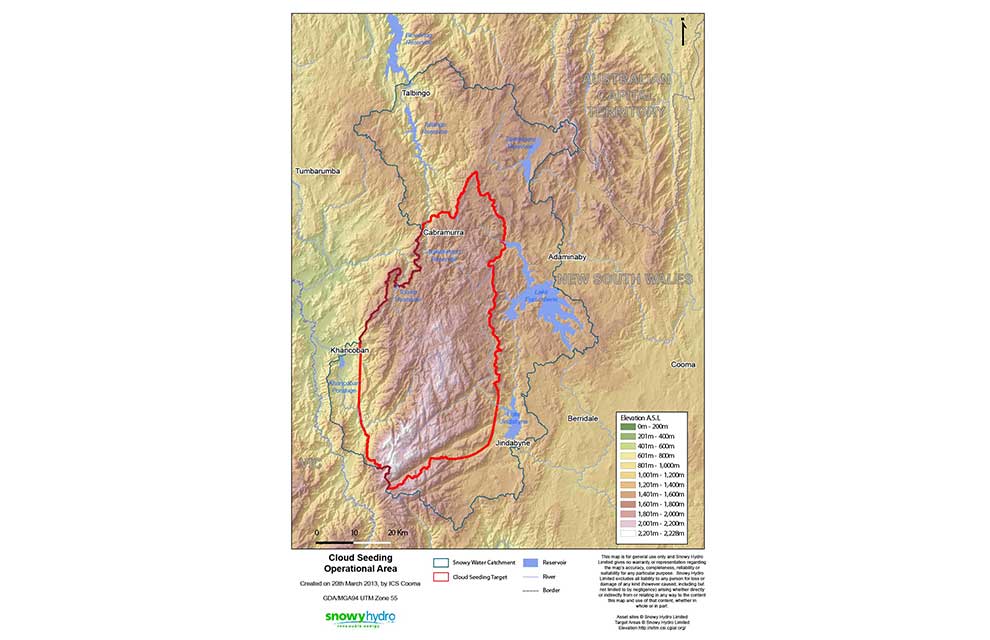 Cloud seeding activities are authorised by the Snowy Mountains Cloud Seeding Act 2004 (Act) which prescribes a number of mandatory requirements for the cloud seeding program. Most importantly, the Act stipulates that operations must be carried out in accordance with an approved Environmental Management Plan (EMP) The Environment Protection Authority (EPA) is nominated to review compliance of cloud seeding operations with the Act and the EMP. Snowy Hydro reports annually on its cloud seeding operations to the NSW Government with a summary Cloud Seeding Operations Annual Report published on this website.