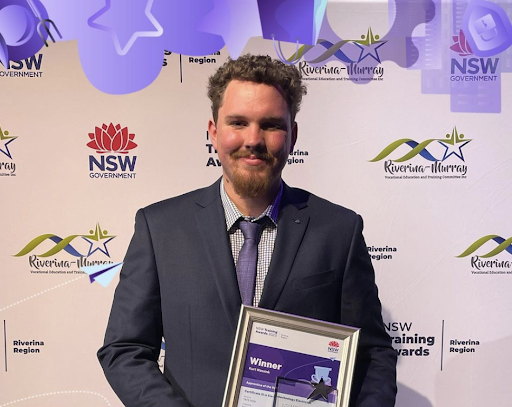 Snowy Hydro's Kurt Wassink has been named the Riverina region's 2023 Apprentice of the Year in the NSW Department of Training awards.
Snowy Hydro CEO Dennis Barnes congratulated Cooma local Kurt, who completed his Certificate III in Electrotechnology at TAFE NSW, on winning the prestigious award.
"This is a wonderful achievement that underlines the quality of both our local employees and our long-standing apprentice program," Dennis said.
"At Snowy we are committed to developing science, technology, engineering and maths (STEM) expertise among our people, and nurturing the talent we have in the Snowy Mountains region.
"We are future focused and are proud to see our apprentice program is building STEM skills not only for our business, but for the energy industry and regional Australia."
Snowy Hydro employs up to 25 apprentices annually. In 2023 we have 25 apprentices, six of whom are females and three are Clontarf Foundation graduates. Around 10% of our full time employees are in graduate, apprenticeship and trainee programs at any one time.
Kurt, who is now a qualified Snowy Hydro Maintenance Technician – Electrician working in Khancoban at our Murray 1 and 2 hydro power stations, will progress to the next stage of the NSW Training Awards which are held in Sydney later in the year.
These awards honour and recognise outstanding achievement in the NSW vocational education and training sector.