Snowy 2.0 FAQs
What is Snowy 2.0?
Snowy 2.0 is a major expansion of the existing Snowy Scheme, adding new pumped-hydro capability between Tantangara and Talbingo dams through an underground network of tunnels and a new underground power station.
Snowy 2.0 will provide an additional 2,000 megawatts (MW) of dispatchable generating capacity and approximately 350,000 megawatt hours (MWh) of large-scale storage to the National Electricity Market (NEM). This is the largest committed renewable energy project in Australia and it will underpin the nation's secure and stable transition to a low carbon emissions future at the lowest cost for consumers.
Snowy 2.0 is a critical project for the NEM and will ensure the stability and reliability of the energy market by providing additional on-demand energy and large-scale storage, especially during prolonged weather events, such as wind or solar 'droughts'.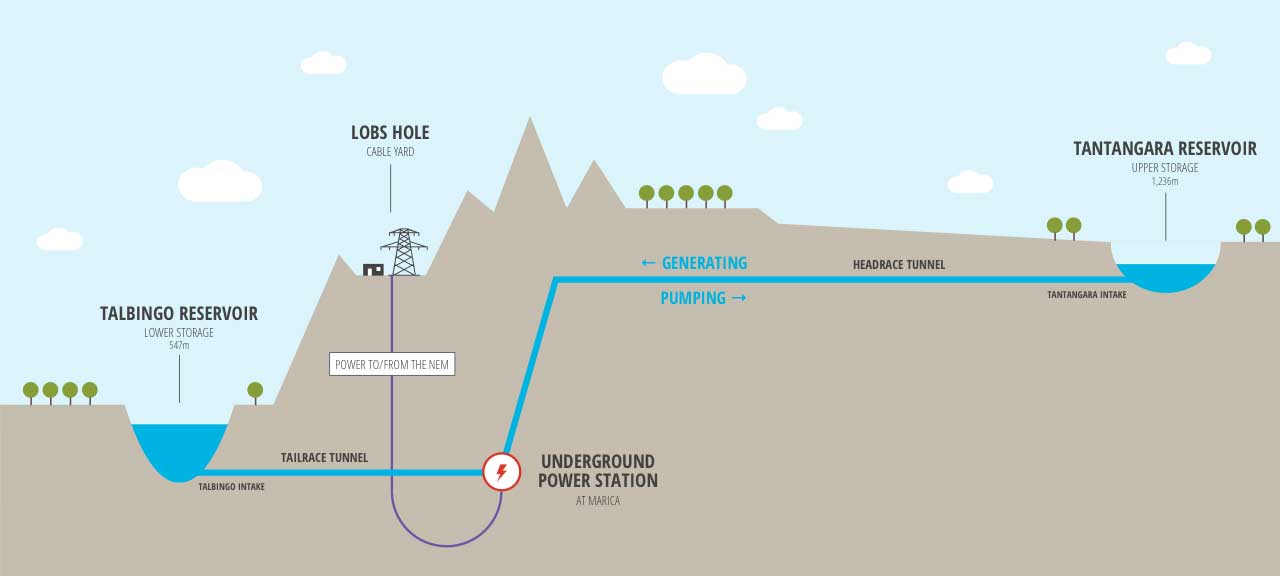 Snowy 2.0 will act like a giant battery, pumping water to the upper dam at times of low demand and storing it to generate energy at times of high demand. This large-scale storage capability will be critical for the energy market and will 'firm up' intermittent generation as the economy decarbonises and more wind and solar come online, while coal-fired power stations retire.
Read more about the Snowy 2.0 project here and check out the interactive map of the project here.
Detailed project information, economic modelling and an overview of the business case can be found in the 2018 Final Investment Decision report and the 2017 Snowy 2.0 Feasibility Study. 
Why do we need Snowy 2.0?
Snowy 2.0 is a critical project for the energy market. Snowy 2.0, along with the existing Snowy Scheme, will underpin Australia's transition to a renewable energy future at the lowest cost to consumers.
As the transition to renewables accelerates, reliable and stable energy supply cannot be achieved without large-scale energy storage and on-demand generation. Snowy 2.0 will provide large‐scale energy storage and quick‐start electricity generation at critical times of peak demand when energy supply is constrained and at times when intermittent renewable energy output is low.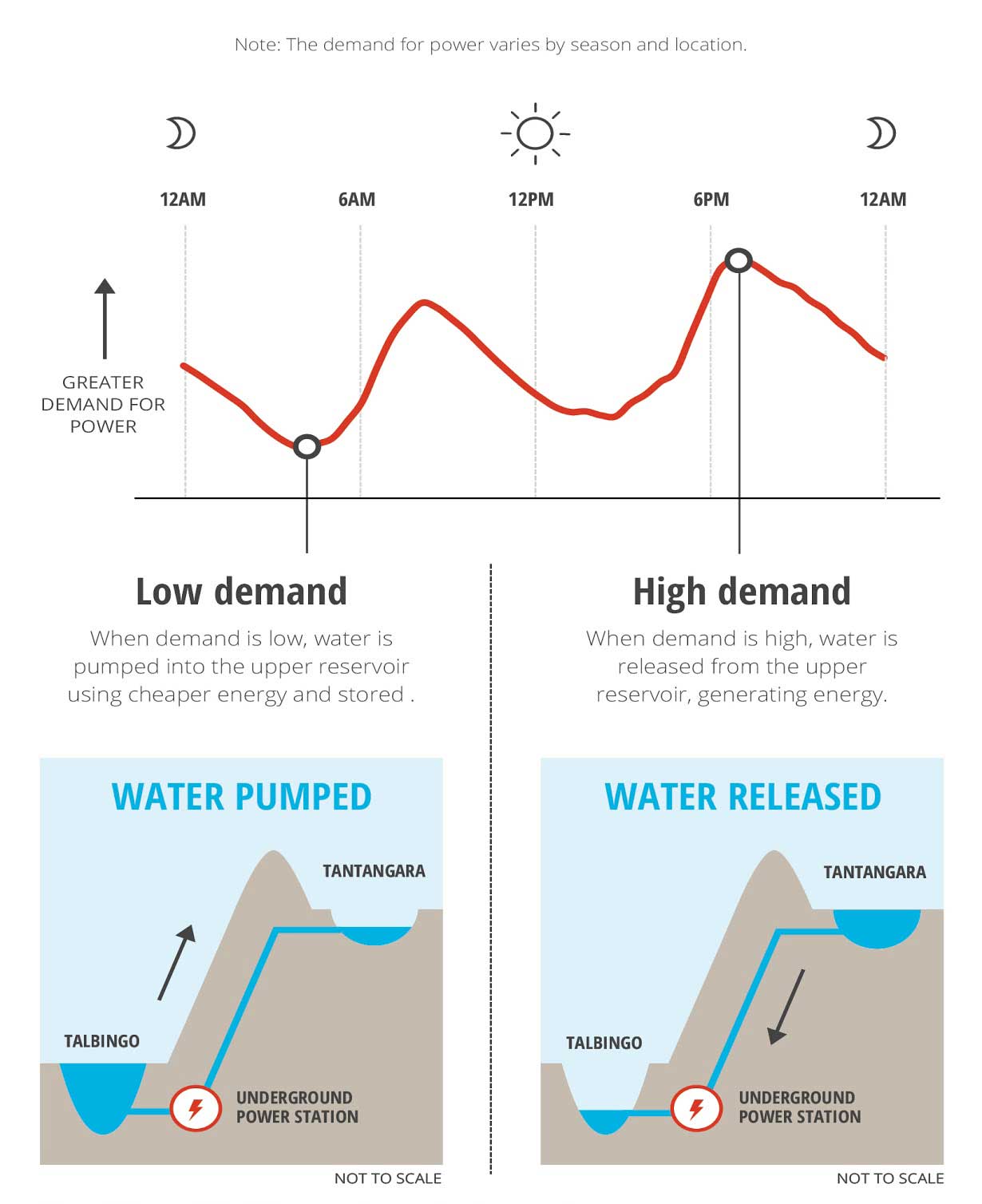 Energy storage helps build power system resilience to weather events (including wind and solar droughts) by storing surplus renewable generation for use at times when these resources are scarce and allowing more constant operation of less flexible existing generation. This, in turn, creates a more dispatchable and reliable power system, while helping to keep prices down for consumers.
Pumping water at times of low electricity demand (ie when there is excess supply) means that Snowy 2.0 will have water ready to use for energy generation at times when consumers need it most. Snowy 2.0 will make efficient use of our precious water resources to generate electricity without impacting on downstream water users and environmental flows.
What are the key benefits of Snowy 2.0 to the National Electricity Market?
Snowy 2.0 will improve energy market efficiency and reliable market operation, provide on-demand generation and large-scale energy storage and encourage more variable renewable energy generation to enter the NEM at lowest cost to consumers.
Specific benefits to the energy market are summarised as follows:
Snowy 2.0 provides low emission on-demand energy and will underpin the continued decarbonisation of the economy;
Snowy 2.0 provides deep existing water storages (no new dams required) to allow more flexibility to respond to seasonal variability when compared to other variable renewable energy and batteries;
Snowy 2.0, being a closed system, can move water between reservoirs and not rely on natural inflows that may vary seasonally, offering valuable seasonal storage and insurance against drought risk. This is because Snowy 2.0's pumping capabilities work in a 'closed' system - water is recycled between the two dams so the same water can be used to generate power more than once, making the most of available water;
Snowy 2.0 will have the capability to run for over seven days continuously before it needs to be 'recharged'. By comparison, small and large-scale batteries have limited storage (typically one to four hours);
Snowy 2.0 will improve the overall efficiency of the NEM by absorbing and storing excess energy from the system at times of excess demand (through pumping) and generate at the critical times of peak times; and
Snowy 2.0 has a 100 year design life and will generate power for generations to come.
What's the business case for Snowy 2.0?
Snowy Hydro is pursuing Snowy 2.0 because it meets the company's stringent investment criteria. The internal rate of return (IRR) for the project has been modelled at more than 8%, which is strong for this type of project. Snowy 2.0 was based on the original Snowy Scheme design in the 1960s, but it was not constructed at that time because the business case was not feasible due to the availability of cheap thermal generation. 
Fast forward to today and the NEM is undergoing a major transformation, with coal-fired generation retiring and more intermittent and variable renewable energy sources coming online, creating significant impacts on system stability and reliability. In today and tomorrow's energy market, this project is a solid investment and one that is critical for Snowy Hydro's growth and continued ability to compete in the market for the benefit of consumers.
Two primary drivers underpin the four major sources of revenue, namely capacity (the ability to deliver near-instantaneous, reliable generation for short periods) and storage (the ability to time-shift energy from low-demand, low-value periods to high-demand, high-value periods).
These revenue drivers, though not mutually exclusive, are additive; that is, Snowy Hydro and Snowy 2.0 benefit from both at the same time and do not have to choose between them to earn revenue. This is a key difference between Snowy 2.0 and other generating assets. For example, a gas-fired peaking station is almost entirely reliant on capacity revenue, whereas a wind farm relies solely on energy.
Two-years of exhaustive market modelling and economic analysis has been done by Snowy Hydro. Further information on the business case can be found in the project overview, the 2018 Final Investment Decision report and in the two independent energy market reports undertaken by Marsden Jacob and Associates.
What workforce and business opportunities will Snowy 2.0 generate?
The Snowy 2.0 workforce is expected to grow from a small base in year one, to an estimated 2,000 at peak times. There will also be a large number of jobs generated indirectly by the project, both regionally and beyond.
Future Generation, a joint venture between Clough and Salini Impregilo, has been appointed as the Snowy 2.0 principal contractor and is responsible for hiring the project workforce and sub-contractors.
To explore the job opportunities available now, visit the SEEK website and search for 'Snowy'. The Future Generation website has more information about Snowy 2.0 business and job opportunities.
To date more than 100 local businesses from the Snowy Mountains region have been involved in the project. 
What are the next steps for Snowy 2.0?
Snowy 2.0 is underway, with Exploratory Works in full swing at Lobs Hole. An Environmental Impact Statement for the Main Works has been submitted to the NSW Department of Planning, Industry and Environment (DPIE) for assessment. If approved, these main project works are expected to commence in 2020.
The Exploratory Works will provide Snowy Hydro with a greater understanding of the underground geological conditions at the proposed location of the power station. The work involves road upgrades, the establishment of construction facilities and an accommodation camp at Lobs Hole, and excavation of an exploratory tunnel to the likely power station location.
An Environmental Impact Statement for the Snowy 2.0 Segment Factory has also been submitted to DPIE for assessment. If approved, the factory would commence operation in 2020. 
What are the environmental impacts of the Snowy 2.0 project?
For almost 70 years Snowy Hydro has responsibly operated the Snowy Scheme in Kosciuszko National Park (KNP). We see the park as our backyard and are absolutely committed to avoiding and minimising potential impacts from Snowy 2.0, as we do for our existing business.
Snowy 2.0 is undergoing a rigorous assessment process which takes into full consideration the potential environmental, social and economic impacts of the project and provides measures to avoid, reduce and mitigate potential impacts.
For each stage of the project, a comprehensive Environmental Impact Statement has been prepared.  The EISs are very thorough and address the environmental assessment requirements specified by regulatory agencies. The EISs include information collected from years of field survey and monitoring work, mitigation measures to avoid and reduce project impacts as much as possible, input from extensive stakeholder engagement and dozens of scientific and technical studies.
Snowy 2.0 is a large construction project to be constructed in KNP, which is a very large national park. The total area temporarily impacted by construction is less than 0.25% of KNP and post-construction, the operational footprint of Snowy 2.0 is less than 0.01% of the total size of the park. 
The unavoidable impacts will be offset and construction areas rehabilitated. A program of work to be funded by offsets is being developed in close consultation with key local stakeholders including the National Parks and Wildlife Service. These works are targeted to directly contribute to the ongoing and long-term conservation and recreational use of the park.
Snowy 2.0 is expected to provide broad-scale environmental benefits as a critical project to underpin and support Australia's renewable energy future for generations to come.
More information on the Environmental Impact Statements for Snowy 2.0:
What are the Snowy 2.0 Main Works?
Snowy 2.0 Main Works will involve the construction of Snowy 2.0 and supporting infrastructure to operate the power station in the future. The key elements proposed as part of Snowy 2.0 Main Works include:
a 2,000MW underground pumped hydro-electric power station complex;
water intake structures at Tantangara and Talbingo reservoirs;
underground access tunnels, power waterway tunnels, chambers and shafts;
new and upgraded roads to allow ongoing access and maintenance; and
power, water and communication infrastructure.
The design and construction of the project will be carried out by Future Generation Joint Venture (FGJV), the principal contractor appointed by Snowy Hydro.  Once construction is complete, Snowy 2.0 will be owned and operated by Snowy Hydro as part of the existing Snowy Scheme.
What are Snowy 2.0 Exploratory Works?
Exploratory Works activities for Snowy 2.0 are underway in the Lobs Hole area of the Snowy Mountains following environmental and planning approval in February 2019. 
The power station consists of two large caverns, about 800m below ground, which will house the machine and transformer halls. Exploratory Works include excavating an exploratory tunnel to the likely location of the cavern complex in order to investigate underground conditions in greater detail.
This information will be critical to the final design and site of the power station. The works also involve establishment of a construction compound and supporting infrastructure, upgrade and establishment of access roads and other activities.
What is the Snowy 2.0 segment factory?
Snowy Hydro is proposing to build a factory to manufacture more than 130,000 concrete segments which will be used to line the tunnels for Snowy 2.0.
The factory would be located at a Snowy Hydro-owned site within the Polo Flat industrial area in Cooma and would include a covered concrete batching plant for the manufacturing of the segments, uncovered storage areas, vehicle parking, laydown area, logistics support, offices and workshops.
The factory would take around five months to build and operate for about 3.5 years. Approximately 30 people would be employed during construction and 125 people during the operational period, with 80% of these jobs to be sourced from the local region.
The factory would be operated by the Snowy 2.0 principal contractor, Future Generation Joint Venture. As part of the approval process, an Environmental Impact Statement for the segment factory has been submitted to DPIE. There is more information about the segment factory proposal here.
Will Snowy 2.0 use or need more water?
The Snowy Scheme operates under a strict water licence issued by the NSW Government. Snowy 2.0 will not in any way impact on Snowy Hydro's continued compliance with the water licence.
In particular, there will be no change to Snowy Hydro's water release obligations from both the Murray and Tumut developments, and no change to environmental release obligations, meaning Snowy 2.0 will not have any impact on downstream water users or environmental flows.
Snowy 2.0 will also be less impacted by water inflows, so it will be less impacted by droughts. Snowy 2.0's pumping capabilities work in a 'closed' system - water is 'recycled' between the two storages so the same water can be used to generate power more than once. It will also provide Snowy Hydro with more options to manage inflows and water shortages over the long term.
Snowy Hydro will continue to operate Tantangara and Talbingo dams within existing Scheme operational and regulatory requirements, including the established operating target storage levels.
This means that the maximum and minimum operating levels of the two storages will not change due to Snowy 2.0. It is possible that the frequency of water level changes will increase as the water is cycled between Tantangara and Talbingo.
How does pumped-hydro work?
A pumped-hydro scheme 'recycles' the water so it can be used again and again, making the most of available water. By using reversible turbines in the power station, water can be released to generate energy at times of high demand and then be pumped from the lower dam back to the upper dam during times of low energy demand. Read more about Snowy 2.0 here.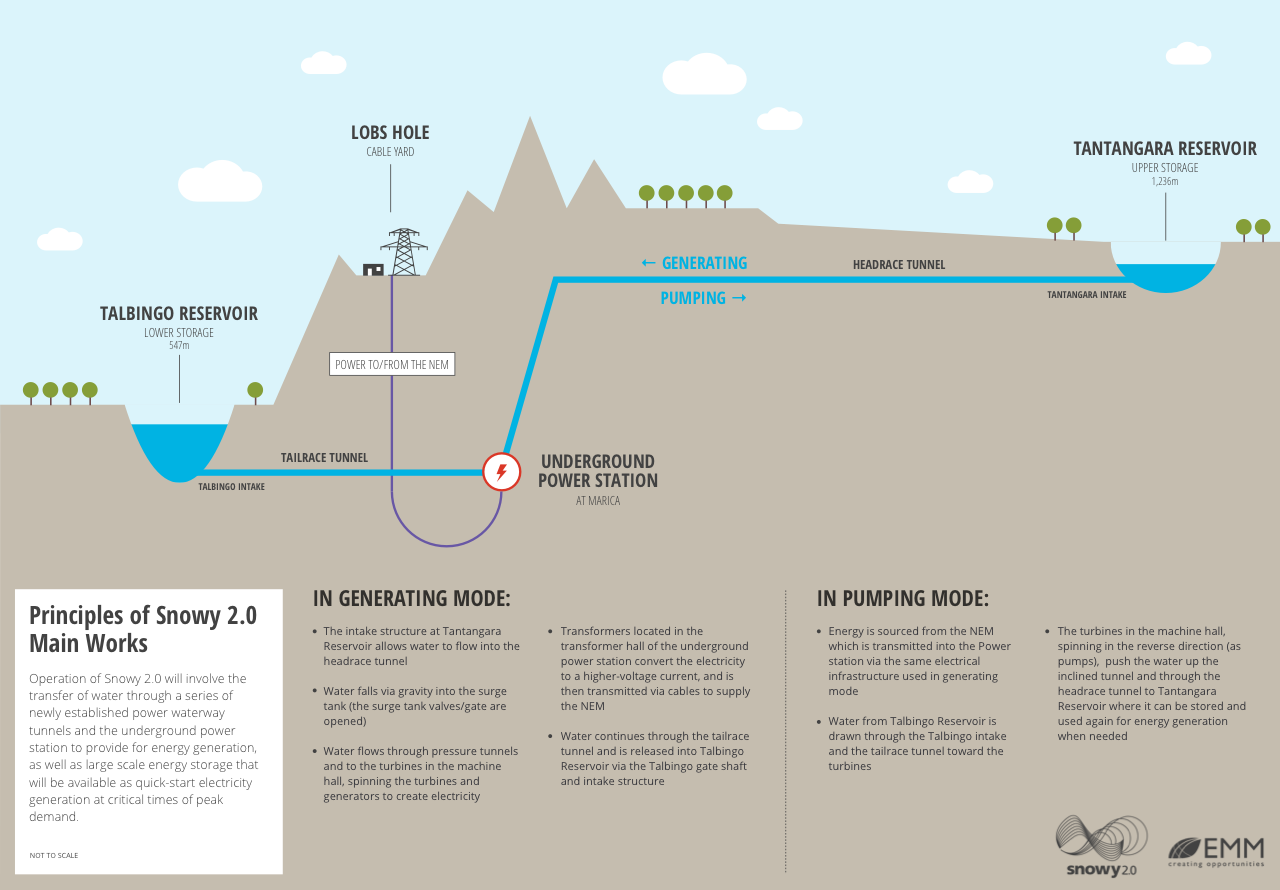 How does Snowy 2.0 store energy and why is it sometimes called a 'battery'?
The ability to pump and store water in huge quantities would see Snowy 2.0 act like a giant battery in the sense of absorbing, storing and dispatching energy.
Snowy 2.0 will pump water using electricity at times of low demand and store it in Tantangara Dam. Then, when energy is needed most, this stored water will be released into Talbingo Dam to generate electricity.
Pumping water at times of low demand means we are able to generate energy at other times, when consumers need it most. For example, if the wind is blowing in the middle of the night when consumers are asleep, wind energy can be used to pump water into storage. When households wake up and need electricity, we are able to generate energy on-demand.
What is dispatchable generation and why is this important to Snowy 2.0?
Dispatchable (or on-demand) generators can control when they generate energy. This flexibility means electricity can be quickly provided to the grid on order, or according to market demands.
Snowy 2.0 will produce on-demand generation within minutes, for example at times of peak demand when extra energy is needed, or when intermittent generation like wind or solar power is low or not available because the wind isn't blowing or the sun isn't shining.
As more wind and solar enters the NEM we will see increased market volatility which impacts on energy prices. Intermittency also creates instability in the network which impacts the system's stability and reliability.
The on-demand generation of Snowy 2.0 (and the existing Snowy Hydro business) will help to 'firm' up new intermittent renewable generation and underpin the stability of the system.
Intermittency also creates instability in the network which impacts the system's reliability. The shared network that carries power around the NEM needs to operate at a constant and steady frequency - if the frequency drops too low due to very low generation, blackouts can occur.
The role for Snowy 2.0 and batteries
The future NEM will require a huge amount of storage (far more than just Snowy 2.0), which will be provided from a mix of projects and storage options.
Domestic and commercial batteries, small-scale and large-scale hydro projects and demand management will play a role. Batteries provide storage over short time intervals (several minutes up to an hour), while Snowy 2.0's size and scale (350 gigawatt hours or 175 hours of operation) provides storage that can underpin the stability and reliability of the NEM.
An example of when vast amounts of storage would be needed include wind or solar droughts. In South Australia across the financial years of 2015 and 2016, there was a deficit between average wind production over a two-week period, and the minimum wind production over two weeks, of 60GWh. If a100MW battery was fully charged at 0.129GWh, it would only be able to cover 0.2% (or a few hours) of this two-week energy deficit.
Snowy 2.0, however, could generate energy to fill the gaps throughout the two-week period without needing to recharge.
Do you use more energy to pump than you make when you generate?
Yes, there is a small efficiency loss when water is pumped. However, pumping water gives us the ability to absorb energy when it's not needed, store the water, and release it to generate energy when required.
For example, solar generation is at its peak during the middle of the day, when many people are at work or school. Snowy 2.0 could use this solar energy to pump water so that when the sun sets and people get home, we can generate energy to meet the spike in demand that occurs in the early evening.
While some energy is lost pumping water, there is no other way to have it sitting in storage ready to be used when consumers need it most. It is not possible to make the wind blow or the sun shine, but with pumped-hydro we can generate energy on-demand.
Will we need a Snowy 3.0, 4.0 etc?
Yes, over coming decades the NEM will need enormous amounts of energy storage.  This has been recognised in the Australian Energy Market Operator's (AEMO) Integrated System Plan. AEMO has said that with ageing coal-fired power stations closing storage capacity is one of the critical issues for the national energy market (NEM).  
From the early 2030s, we expect there will be the need and business case for further expansions of the Snowy Scheme (ie. Snowy 3.0 and 4.0) to keep up with the increase in renewables in the market and the growing requirement for large-scale storage and on-demand generation.
Projects considered after the construction of Snowy 2.0 would be very cost-effective as they would utilise previously-built access routes and support infrastructure. In addition to Snowy 2.0 (and the future possibilities of 3.0, 4.0) we expect to see a mix of other new projects such as commercial and domestic batteries and demand management solutions to meet the needs of the NEM.
Are transmission upgrades needed for Snowy 2.0?
The existing transmission network was built many decades ago to get the energy from coal-fired plants to the market.
Our energy system is rapidly changing. New transmission routes are needed urgently to connect new generation projects, renewable energy zones that are geographically dispersed and strategic storage projects right across the NEM.
The Australian Energy Market Operator (AEMO) is responsible for planning the national transmission network for the future. AEMO has released its inaugural Integrated System Plan (ISP) which provides the transmission system developments to meet the NEM's critical need for transmission upgrades. AEMO has further released an 'Insights Paper' that provides new perspectives and deeper analysis on the important role pumped hydro energy storage (PHES) and strategic transmission developments can play in lowering costs to consumers and increasing the resilience of the National Electricity Market (NEM).
AEMO's ISP supports strategic storage initiatives such as Snowy 2.0, which is required to firm up intermittent renewables in NSW and Victoria, and indirectly, South Australia. The proposed upgrades to the grid are to the shared transmission network that renewable energy generation and storage projects connect to as they come online.
There is a regulatory framework in place to fund the shared network upgrades. Snowy Hydro (as a generator) does not own or operate the shared network and for this reason, the cost associated with upgrading the shared transmission network cannot be included in the 2.0 project costs.
However, the cost of the lines that are required to connect Snowy 2.0 to the shared network will be funded by the project, as they are connection assets to be used solely by Snowy Hydro.
Who owns Snowy Hydro?
Snowy Hydro is an entity incorporated under the Corporations Act (Cth) 2001 in 2002, governed by an independent Board of Directors. The Commonwealth Government is the sole shareholder of Snowy Hydro Ltd.