Kick-start your career with a leader in renewable energy!
We are proud to be part of the Snowy Mountains community and to invest in the local region. As a growing and integrated energy business, we supply electricity to more than one million customers. With exciting projects including the construction of Snowy 2.0 and the Hunter Power Project, there is no better time to join the Snowy Hydro team.
If you have a curiosity to learn new skills and have a can-do attitude, consider applying for an apprenticeship or traineeship with us.
Traineeships

A unique opportunity to complete a TAFE qualification in Business Administration or Information Technology, and gain real-world, on-the-job experience.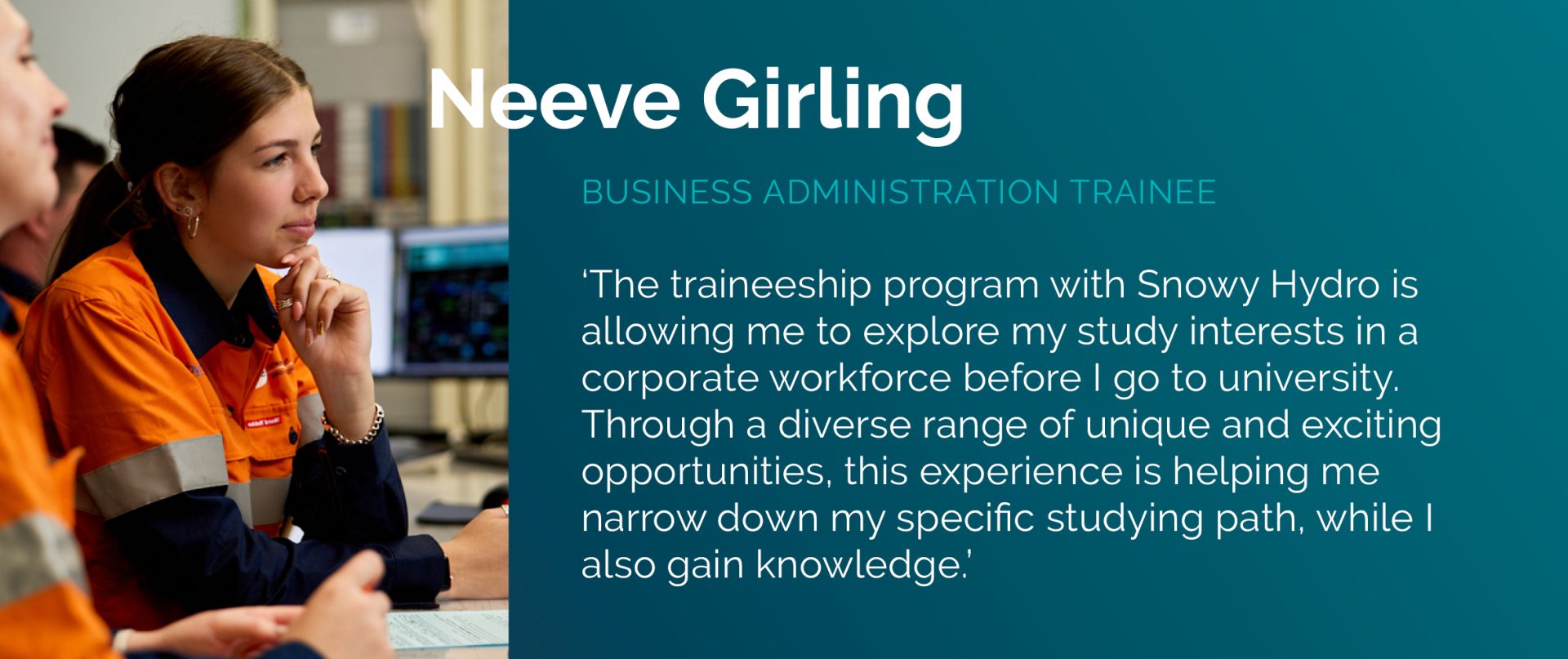 As a trainee, you will
complete a certificate III and IV in Business Administration or Certificate III in Information Technology at TAFE.
be employed on a full-time contract and be paid to learn.
be working with experts in their field, who will teach, mentor and support you through every step of your traineeship.
Apprenticeships
A great opportunity to complete a four-year mechanical or electrical TAFE qualification and gain on-the-job training and mentoring by our experienced tradespeople.

As an apprentice, you will:
complete a Certificate III in either Engineering – Mechanical Trade (Fitting and Machining), or Electrotechnology.
work with, and be mentored by, technical experts in a complex and highly technical environment.
gain experience while working across the Snowy Scheme at Jindabyne, Khancoban, Cabramurra and Talbingo.

Vacation Program
The complexity of our business demands a broad range of skills, and the Vacation program offers an exceptional opportunity to experience working within Snowy Hydro for 12 weeks over the summer university break.
During this time, students have the opportunity to work alongside our teams assisting with projects and exploring the diversity of our organisation. Participating in the Vacation Program provides a competitive advantage for those interested in our Graduate Program, making it a popular choice amongst high-performing undergraduates.
Snowy Hydro looks for students in their penultimate or final year of Engineering (Electrical, Mechanical and Civil preferred) who are motivated and enthusiastic to learn hands-on as part of a committed team.
What to expect from the Vacation Program:
The opportunity to work alongside top industry experts in a professional and supportive environment.
Exposure to some of the world's largest and most advanced equipment, technology and infrastructure that forms the diverse portfolio of Snowy Hydro's assets and systems.
A lifestyle in Cooma and the surrounding Snowy Mountains that is second to none, alongside the brilliant Snowy Scheme.

Graduate Program
Snowy Hydro's Graduate Program is a three-year rotational program across Snowy Hydro's operations. The program endeavours to develop well-rounded graduates that will hopefully join our business following the completion of the program. In recent years the program has expanded from only engineering graduates to including technology and environmental science graduates.
As our company continues to grow and expand, graduates offer an opportunity to develop our own talent to meet the increasing demand for engineering capabilities across capital programs, major outages, strategic engineering and regional areas. At any one time, there are 25-30 graduates across Snowy Hydro.