On 16 March 2017, Snowy Hydro announced its proposal to carry out a Feasibility Study into the expansion of the pumped hydro-electric storage in the Snowy Hydro Scheme, also known as Snowy 2.0.
The Feasibility Study is currently under way and due for completion in December 2017. Once completed, the Board of Directors of Snowy Hydro will assess the outcomes of the study including the technical and economic aspects, and make a decision on next steps.
What is Snowy 2.0?
Snowy 2.0 is a pumped hydro project with the potential to provide storage for large scale, reliable renewable energy to Australia at a time when energy security and climate change are at the forefront of public policy.
If built, Snowy 2.0 would increase the generation capacity of the iconic Snowy Scheme by up to 50 per cent, making up to 2000 megawatts available to the National Electricity Market.
This energy storage capacity could then be used to ease pressure at times of high demand and provide rapid-response back-up to fill unexpected gaps in electricity supply. This is important as the economy reduces reliance on fossil fuels and increases its use of renewable energy – the security provided by energy storage can protect the community from blackouts and prices shocks.
How would it work?
Pumped hydro involves recycling water between adjacent reservoirs at different elevations. Pumped hydro schemes store energy by pumping water from a lower reservoir into an upper reservoir at times of low demand.  During times of peak demand, the water is released back into the lower reservoir through the turbines to generate electricity.  These schemes enable large scale storage of clean, renewable energy in a flexible way.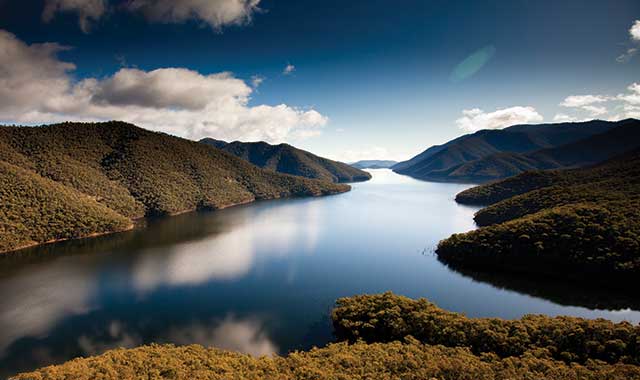 The Project Site
The site under consideration for Snowy 2.0 would link the existing Tantangara and Talbingo reservoirs that form part of Australia's iconic Snowy Mountains Scheme, which has been delivering hydro-electric power and irrigation to Australia for decades.  The proposal does not require the construction of any new dams, nor will it affect irrigators and downstream water users.
The Study
Work has now commenced on Snowy Hydro's 2.0 Feasibility Study.
The study will assist the Snowy Hydro team to plan for the engineering and market challenges of delivering this major project.
The study will include a full environmental impact assessment, and will comply with all environmental, water and other regulatory requirements. The proposed expansion will have no impact at all on irrigators or downstream water users.
The Snowy Mountains Engineering Corporation (SMEC) Australia has been appointed as the lead consultant engineer for the study. We are proud to be once again partnering with SMEC after our initial work together on the development of the iconic Snowy Scheme in 1949.
More information & Inquiries
Snowy Hydro will keep the community up to date on the study as it proceeds. Community inquiries can be addressed to corporate.affairs@snowyhydro.com.au
Companies interested in potentially providing services to this project should contact (02) 6453 2888 or corporate.affairs@snowyhydro.com.au. Please note that the Feasibility Study will be completed by December 2017.
To read some Frequently Asked Questions about the Project, click here.