What is the Local School STEM Fund?
With a commitment to education and development, Snowy Hydro's Local School STEM Fund collaborates with our local schools to encourage and promote STEM learning in (and out) of the classroom and career pathways in STEM through community grant funding.
Overview
Through our inaugural Local School STEM Fund, we have provided a total funding amount of approximately $160,000 to 18 schools in 10 locations, benefiting more than 2,200 local students now and in the future. Support for initiatives such as a 3D printer in a primary school means that local students will gain confidence using this technology as they move through into secondary schools where a 3D printer or similar processes are used, as is happening in Tumbarumba.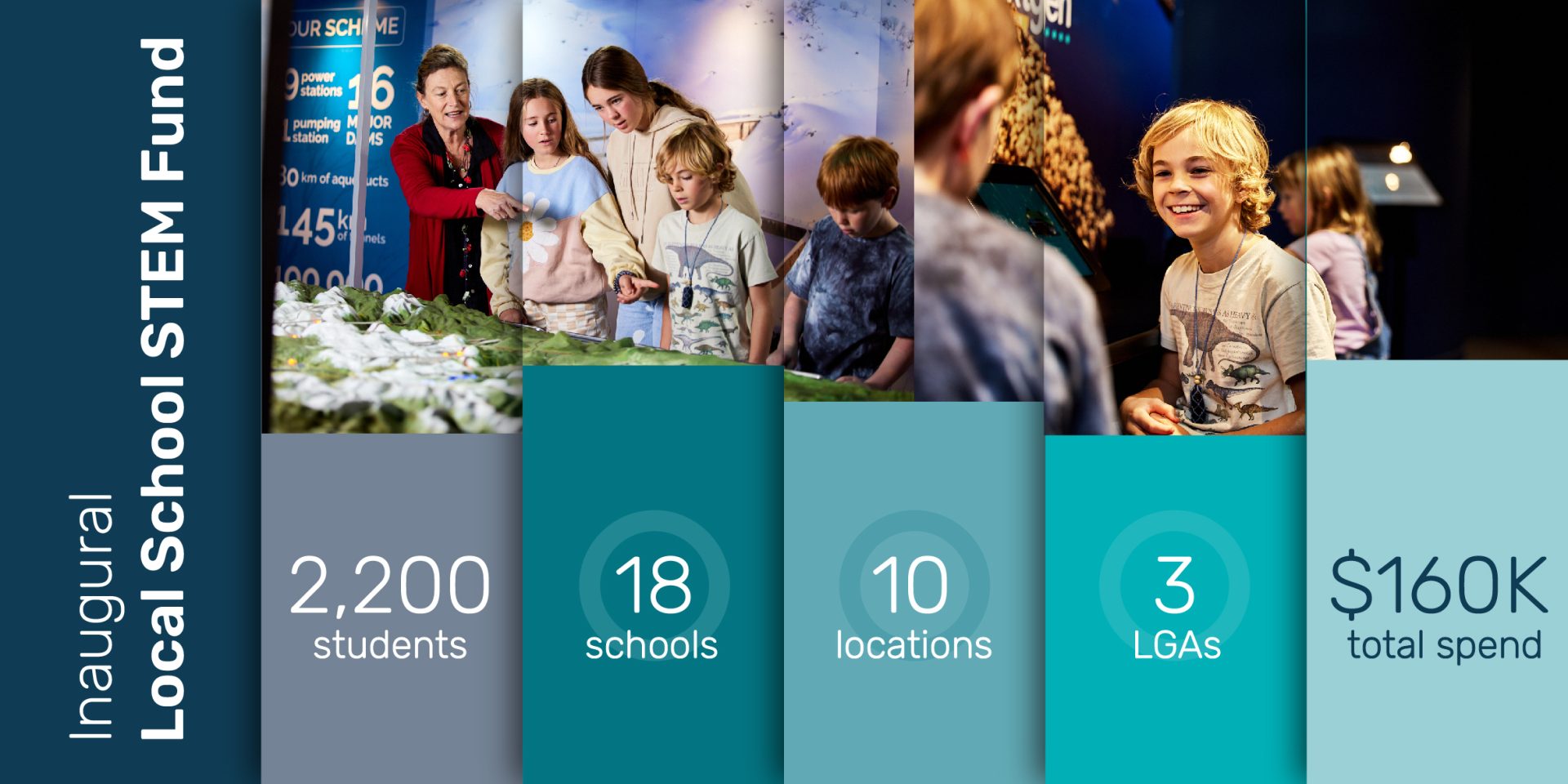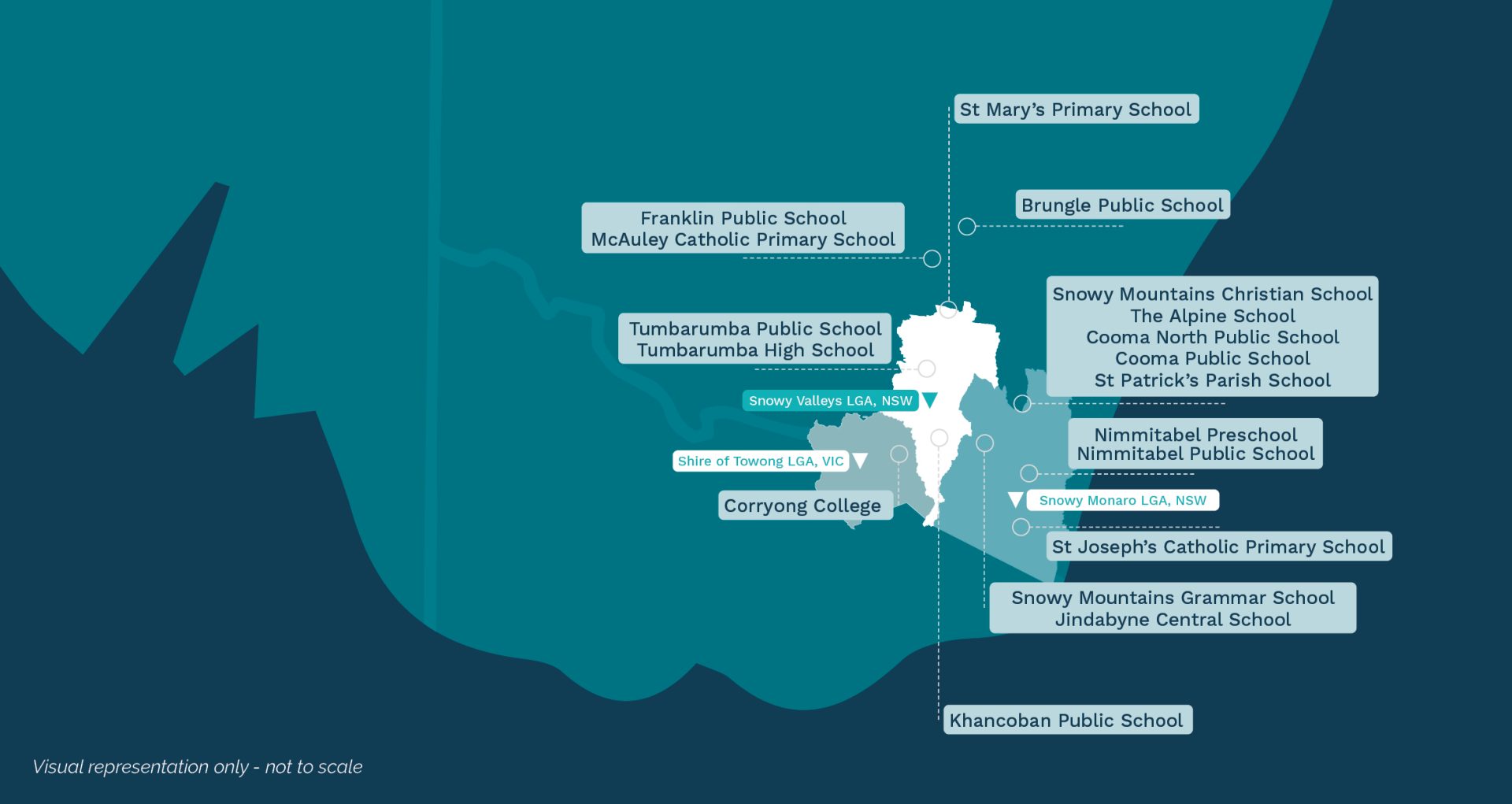 Which schools have we supported?
Funding has been allocated to primary (75%) and secondary schools (25%) within a mix of public (56%) and private schools (44%).
What initiatives have we supported?
There have been a varied range of supported initiatives, including but not limited to: 
• aquaponics project (to assist students with the understanding of sustainability relating to food and water resources) 
• 3D printers
• a First Nations Science Camp where both ancient knowledge and modern technology were combined – this camp extended invitations out to another six surrounding schools and to the Clontarf Foundation (therefore a much farther reach than just the awarded school)
• upgrades to equipment in science classrooms
• development of a robotics club (where students can build on their STEM skills and have the opportunity to submit to robotic competitions)
• enhancement of resources to develop critical thinking
• building school programs and clubs to strengthen student competence and confidence in programming and construction projects
• sustainable garden project
• build a township project (where students will research, design and plan a town).
The Snowy Hydro Local School STEM Fund is currently closed.
In early 2024, local schools can apply for up to $10,000 of funding to support STEM-related excursions student sponsorships, equipment and camps.
The Snowy Hydro Local School STEM Fund will support local schools in the Snowy Monaro, Snowy Valleys and Towong local government areas to participate in quality STEM learning experiences.
Applications open: Monday 5 February 2024 Applications close: Monday 4 March 2024
Notification of outcome: By Friday 19 April 2024
FAQs
What funding is available?
Local schools can apply for one grant of up to $10,000. We have one application round, in January each year.
When can I apply now?
The next round will open in February 2024.
Who is eligible to apply?
Local schools with projects, events or initiatives that relate to areas of STEM (science, technology, engineering and mathematics) education.
Eligible schools must be located within the Snowy Monaro or Snowy Valleys LGA, or Corryong, Victoria.
How do I apply?
To apply applicants must complete the online application form.  Please answer all questions in full and provide all supporting documentation.
Applications must be submitted by the closing date. Eligible applications are those that meet the eligibility criteria and address at least one of our social commitment pillars.
What criteria will my application be assessed against?
To maintain a consistent and transparent assessment process, all eligible applications will be assessed and scored against the following criteria:
The project, event or initiative: 
• responds to a community need or aspiration and provides tangible and measurable benefits to the local and/or regional community, both now and in the future.
• is valued and visible within the community, and helps the community thrive.
• strengthens the community by providing opportunities for community development, regional capacity building and/or community participation.
• demonstrates that it can be readily implemented via an appropriate budget by providing relevant quotes or documents that provide evidence of the viability of the application.
• fosters strong and sustainable partnerships within the local and/or regional community.
• has the right team with the knowledge, resources, capacity and capability to deliver the project.
• returns value for investment. 
Not every application that meets the assessment criteria will necessarily receive funding. All decisions are at the discretion of Snowy Hydro; funding decisions will be final and no negotiations with applicants will be entered into.
What type of grants will not be eligible?
• Religious, political or private individual or private business activities or recurrent expenses (example: rent, utilities, wages for a business or organisation).
• Funding for Council owned assets or infrastructure.
• Organisations or community groups not aligned with Snowy Hydro's Values or which have direct links to tobacco, illegal drugs, negative impacts on health, or are associated with risk-taking activities.
• Requests for retrospective activities, or to cover costs associated with making an application.
I have questions – where do I direct them?
Our Community team welcomes any questions to assist the application process. To contact our Community team please email: community@snowyhydro.com.au