Snowy Hydro SouthCare Rescue Helicopter Service
Snowy Hydro Limited was a longstanding partner and sponsor of the Snowy Hydro SouthCare rescue helicopter service until 2017. During the partnership we invested more than $7 million in the service through direct sponsorship, marketing support and staff donations.
Since October 1998, Snowy Hydro SouthCare also enjoyed the strong support of our region which warmly embraced the rescue service.  The SouthCare chopper was a familiar sight and sound across the region providing life-saving aero-medical and rescue services.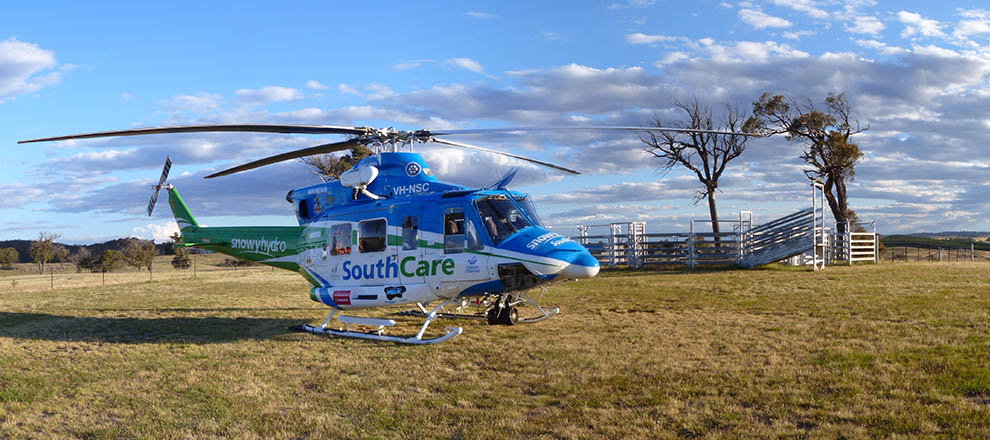 The service received overwhelming community support over the past 18 years. It's because of that support, the ACT and NSW governments now see this as an essential service and have committed to fully fund core operations without the reliance on community fundraising.  It's a unique and outstanding success story.
From April 2017 the current SouthCare helicopter will retire. The ACT and NSW governments have contracted Toll Helicopters to serve the community with a new state-of-the-art aeromedical helicopter.  An Agusta-Westland 139 will commence operations out of Canberra, as part of a fleet of eight servicing southern NSW and the ACT, and will be on call 24 hours a day with two additional back up helicopters. The new helicopters will have increased power and performance with the capacity to provide an even better service to the ACT and south-eastern NSW community. Each aircraft will be fitted with the latest aviation and safety technology, including single engine performance and a greater range, night vision technology and a larger working space for the medical crew in the rear of the aircraft. The facilities on board enable life-saving operations and major medical interventions to be carried out immediately.
A bigger and better aero-medical service is great news for our region, however it does mean that Snowy Hydro will no longer hold the naming rights sponsorship for the ACT based helicopter.
Snowy Hydro is incredibly proud to have been able to support this essential life saving service for the last 16 years and we would like to thank our Snowy Mountains communities for also supporting the service.  Together we have contributed to the success of the service and it is an outstanding example of our community spirit.